Meet the Judges
Thank you in advance to our judges for volunteering their valuable time in support of climate innovation. We appreciate their industry expertise and thoughtful deliberation.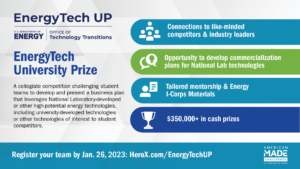 About the EnergyTech University Prize
Sponsored by the Office of Technology Transitions (OTT) at the U.S. Department of Energy (DOE), the EnergyTech University Prize (EnergyTech UP) is a collegiate competition challenging multidisciplinary student teams to develop and present a business plan that leverages DOE national laboratory-developed and other high-potential energy technologies. EnergyTech UP awards cash prizes to teams that successfully identify an energy technology, assess its market potential, and propose a strategy for commercialization. Learn more.
You can be part of the climate solution
Curious how you can make a positive and compounding impact on the climate emergency?