Our Approach
Evergreen takes a hands-on approach to help companies reach the next level.
After we invest, we join the company's board as an observer and work actively to de-risk our portfolio companies. We guide founders through the many challenges of entrepreneurship. We help connect our portfolio companies to potential customers and investors, and provide access to pilots and demonstrations, grant funding, and other opportunities.
Investment Criteria
Stage:
Pre-seed and Seed 
Sector:
Evergreen Climate Innovations invests in climate tech businesses that have a positive impact on the world. This includes businesses in advanced materials, renewable energy, energy storage, building efficiency, water, agriculture technologies, and advanced mobility. 
Size:
Evergreen Climate Innovations typically makes investments of between $200,000 and $300,000.
Investment Geography:
Evergreen Climate Innovations invests across the Greater Midwest region of the United States.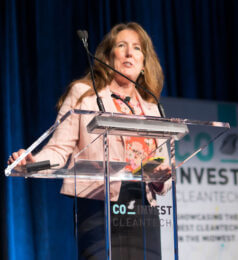 Apply for investment today
Applications for investment from Evergreen Climate Innovation's 501vc® Investment Fund are considered on a rolling basis.