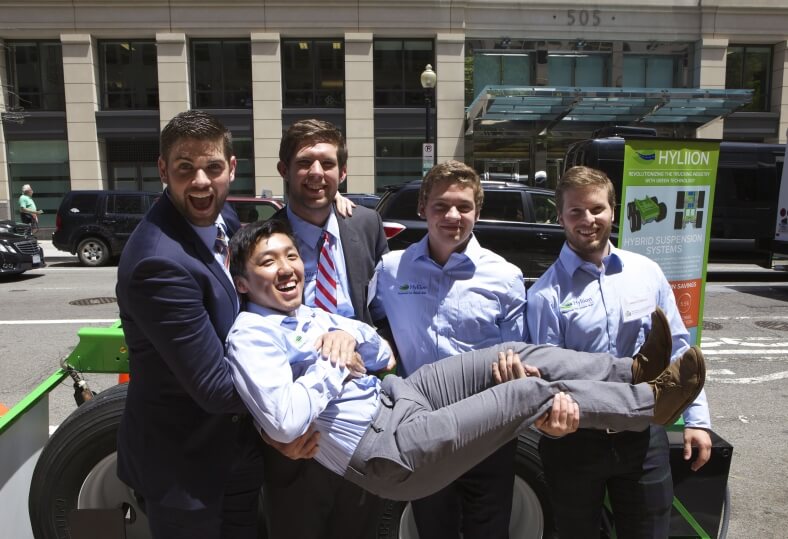 What is Cleantech UP? 
For the past 4 years, Evergreen Climate Innovations has been honored to serve as the Midwest regional coordinator for the DOE National Student Clean Energy Business Plan Competition. And we're thrilled to continue to build on the program's success by again serving as the Midwest coordinator for Cleantech UP through our annual Clean Energy Challenge. The DOE has committed to funding this program for the next three years.
Besides being a little easier to roll off the tongue, Cleantech UP will create a strong national infrastructure focused on collegiate high-tech entrepreneurship that accelerates the rate of clean energy innovation in the United States, establishing a national Cleantech UP Hub and supporting eight Cleantech UP Collegiate Competitions. The Cleantech UP Hub will create a national prize, train student entrepreneurs, and serve as a coordinating body for energy entrepreneurship training, while the Cleantech UP Collegiate Competitions will provide prizes for eight individual university-focused competitions that will equip students with business skills to move clean energy technologies from the discovery phase to the marketplace. Together, the Cleantech UP Hub and Cleantech UP Collegiate Competitions will form a strategic network that increases student entrepreneurs' participation—both in quantity and quality—in clean energy, and addresses the existing gaps in early-stage commercialization training.
Congratulations to our national Cleantech UP partners!
In addition to Evergreen Climate Innovations – Cleantech UP awardees include MIT, CalTech, UC Berkeley, Carnegie Mellon, Rice University, Rutgers, and University of Central Florida.
And congratulations to Spark Clean Energy, the organization that will build out the Cleantech UP Hub program. The additional infrastructure support provided by Spark Clean Energy, and the network of fabulous universities will no doubt make this year's national competition – dare we say – the #BestChallengeEver.
(But…. we still think the Midwest is #1)
Right now we're kicking off efforts to engage universities and incubators throughout the Midwest as pipeline partners to help us uncover the most promising new technologies and student companies. In the past 4 years, we've partnered with some of the best universities in the Midwest (and the country!) including Northwestern, Purdue and Case Western. We're looking to reengage old partners and build up new relationships.
Please get in touch with us if you have ideas for partnerships or contacts that can help! Email Emily Achler at emily@cleanenergytrust.org.
The students that participate in our Clean Energy Challenge are offered a unique opportunity to work with us to build their business, refine their pitch, and connect with important advisors and potential customers. Last year's winner, Felipe Gomez del Campo, CEO of FGC Plasma and student at Case Western University said about the Challenge, "The connections and networking that I was able to do, and getting exposure to the most important people in the industry, was the single most important thing to me." I
mportant Dates 
2016 Clean Energy Challenge Launch & Applications Open 
Applications Close 
Finalists Announced 
FINAL Clean Energy Challenge event