Thank you to everyone who attended the Evergreen DeepTech Expo on October 4th in Chicago! It was fantastic to see so many founders, investors, and ecosystem builders celebrating innovation while fostering partnerships, bridging industry gaps, and motivating the continued effort in combating climate change. 
For those who weren't able to join us (or, if you are looking for a refresher), here's a quick recap of the day! 
Erik Birkerts, CEO of Evergreen started the day with opening remarks.
"There is no question that now is an exciting time to be working in and around climate innovation. With so much focus, attention, and activity in the sector, climate is now a very cool club and working on climate solutions is where many people want to be. This is terrific, but we must always keep the 'why' front and center. Bill McKibben, American environmentalist, gets at the "why" and his quote bears repeating: 'The problem with climate is that it is a timed test. If you don't solve it fast, then you don't solve it at all.' That is the challenge we face – a runway that is getting shorter by the day."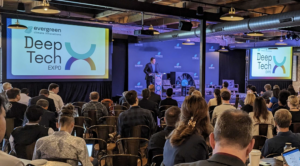 One of the primary objectives of the Expo was to uncover and showcase the latest and most impactful climate technologies. Throughout the afternoon, we heard from six Evergreen founders and two Equity & Access Award winners as they presented innovations ranging from technology that destroys harmful PFAS chemicals, to geothermal technology for efficiently addressing heating and cooling challenges. C-Motive, a Wisconsin startup developing the first commercially viable electrostatic machines, even unveiled their industrial fan demonstration unit that harnesses the power of static cling!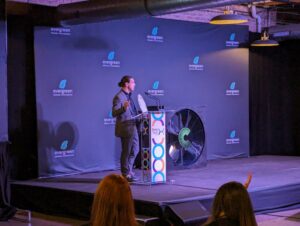 We also partnered with Argonne National Laboratory's Chain Reaction Innovations program to showcase six participating innovators. The presentations from these individuals served as a testament to the wealth and potential of regional talent and technology, fueling the region's climate innovation engine. 
Additionally, attendees had the opportunity to hear from industry leaders Jeff Chamberlain, CEO of Volta Energy Technologies, Francis Wang, CEO of NanoGraf, and Patrick Hunt, VP of Strategy at Our Next Energy (ONE). They provided insight on the current state of the battery industry and the future trajectory of battery manufacturing in the Midwest. NanoGraf is bringing online its first production facility here in Chicago, and ONE is constructing a gigafactory in the Detroit area.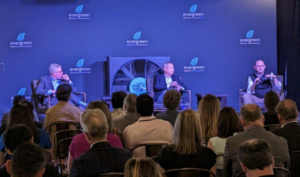 With dedicated time for networking, the focus of the event was more than just technology; it was about people. Providing space for innovators, entrepreneurs, and industry leaders to share ideas, collaborate and establish new partnerships allowed for a unique platform to learn from peers and identify future opportunities.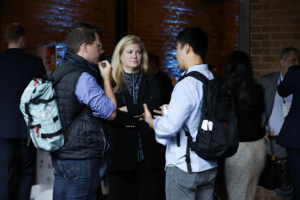 As Evergreen's flagship event during the inaugural Chicago Climate Week, the DeepTech Expo set the stage for World Business Chicago's inaugural Chicago Venture Summit Future-of-Climate-Tech event. This confluence of events provided participants an immersive experience, bridging the gap between innovation and investment and bolstering the Midwest's climate tech ecosystem.
DeepTech Expo By the Numbers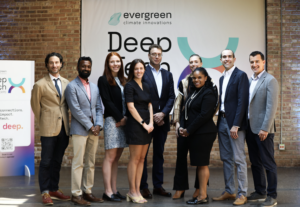 The Evergreen team is excited to continue highlighting the region's huge potential and supporting the founders who are redefining approaches to climate change. As we look forward to the future, we know that continued collaboration can create lasting change. Thank you, again, for all who participated in the day and our many supporters who helped make this day happen! 
For more information or finding ways to get involved, learn more here.
Presenting Companies
Evergreen Climate Innovations Startups
Chain Reaction Innovations Startups 
Equity & Access Awardees
Thank you to our supporters!