The U.S. Department of Energy's (DOE's) Office of Technology Transitions announced Evergreen Climate Innovations as one of fifteen Regional Convener partners of the EnergyTech University Prize (EnergyTech UP).
In this role, Evergreen will host the competition's Explore Event on Thursday, February 24th at 3 PM CT for students in the Great Lakes region. Event registration will be available soon. 
During the first phase of EnergyTech UP, students explore business and energy technology opportunities and present their findings at an Explore Event. At the end of the event, judges will identify the top team selected to move on to the national competition in March.
If you or a student you know is interested in competing for part of more than $250,000 in cash prizes through EnergyTech UP, we encourage you to register your team and submit a concept by January 31, 2022.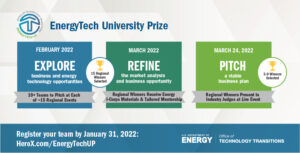 About the EnergyTech University Prize
Sponsored by the Office of Technology Transitions (OTT) at the U.S. Department of Energy (DOE), the EnergyTech University Prize (EnergyTech UP) is a collegiate competition challenging multidisciplinary student teams to develop and present a business plan that leverages DOE national laboratory-developed and other high-potential energy technologies. EnergyTech UP awards cash prizes to teams that successfully identify an energy technology, assess its market potential, and propose a strategy for commercialization. Learn more.