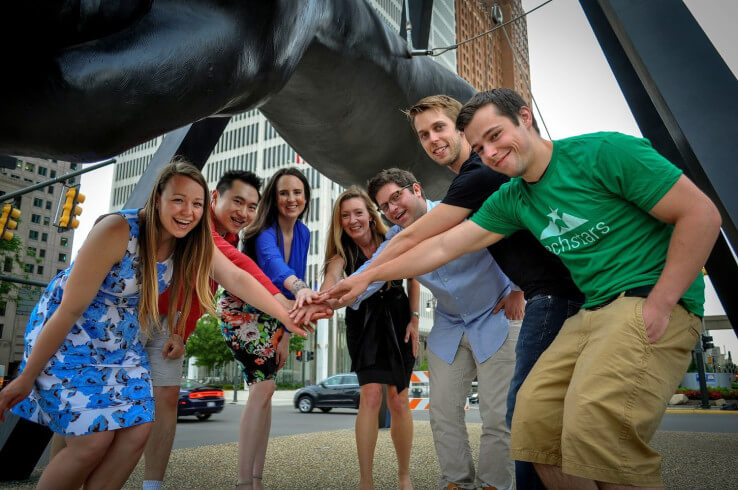 Evergreen Climate Innovations is excited to announce that Bosch, the global automotive and electronics firm based in Germany, has acquired portfolio company SPLT, an enterprise mobility startup based in Detroit.
The acquisition is our first "exit" since we began making seed investments in 2014, demonstrating the "full-circle" vision of our revolving fund model. Proceeds from the investment have been returned to Evergreen Climate Innovations' fund and will be repatriated to capitalize future investments in 2018 and beyond.
Evergreen Climate Innovations CEO Erik Birkerts says, "We're excited for the SPLT team, and we're especially proud to see our investment model beginning to prove itself out so we can support more entrepreneurs in the future. If we continue to make smart investments, our fund will not only sustain itself; it will grow over time and so will our impact."
SPLT was founded in 2015 by Anya Babbitt, who soon thereafter joined forces with Yale Zhang. Babbitt and Zhang had a vision to build a software platform that would easily allow commuters to carpool to work, saving them money while reducing traffic and CO2 emissions.
This acquisition not only represents a significant milestone in proving our 501vc™ investment thesis, but also an opportunity to examine the three pillars of Evergreen Climate Innovations' approach to accelerating cleantech innovation.
Direct Investment
Evergreen Climate Innovations and its Investment Committee believed in that vision and the team behind it, and in April 2016 Evergreen Climate Innovations became one of SPLT's earliest investors. Paul Seidler, Evergreen Climate Innovations' Director of Venture Development, recounts the decision to invest, "We were excited about the B2B business model and its potential to scale and make a real impact by directly taking cars off the road. And we also quickly realized that Anya was very ambitious and capable of executing her plan."
Hands-On Venture Development Support
In addition to investing at an early stage, Evergreen Climate Innovations provides hands-on support to its portfolio companies. Early-stage founders need capital, yes, but capital is only part of the story. Once Evergreen Climate Innovations decides to invest, that's when the full value of our staff expertise and organizational resources are deployed to help fuel growth however we can.
It starts with a dedicated board observer for each company who participate in board meetings and provide advice and mentorship through the ups and downs of an early-stage startup. For SPLT, Paul Seidler and Emily Achler served as co-Board Observers prior to the acquisition. Together they worked with Anya and Yale to provide customer leads, act as a sounding board, listen to problems, and provide counsel.
For Emily, the opportunity to work with Anya and SPLT was particularly special. According to her, "Working in cleantech and startups for the last five years, it's hard not to notice the extreme gender gap when it comes to female founders. Anya is an amazing example of a brilliant leader – whose vision, grace, and resiliency were instrumental in setting the stage for SPLT's growth and eventual acquisition."
Ecosystem Connectivity
The final part of Evergreen Climate Innovations' approach is to build up an ecosystem with a diverse set of stakeholders across the region and country so that our portfolio companies may leverage it to support their growth.
According to Anya Babbit, "Evergreen Climate Innovations is truly the gift that keeps on giving. We have closed many deals thanks to their introductions. Erik, Paul, Emily, and the team function as a mastermind to bounce ideas, strategies, and are the epitome of smart, sustainable growth. They have walked with us every step of the way, and we look forward to helping guide future Evergreen Climate Innovations companies!"
We are so proud of the hard work and determination Anya, Yale and the whole SPLT team have displayed. They were able to take advantage of every connection provided by Evergreen Climate Innovations and other members of the board and turn them into big wins for the business.
Moving Forward
Today, SPLT services more than 20 corporate customers in the United States, Mexico, and Germany, saving an estimated 292,937,022 pounds of C02 per year. That is the equivalent of taking over 28,000 cars off the road! The partnership with Bosch enables SPLT to operate independently with its team intact and maintain product integrity, but with additional resources. Anya will stay on board as CEO of SPLT and continue the journey, expanding throughout the U.S. and to other Latin American and European countries throughout 2018.
By combining direct investment, hands-on portfolio management, and ecosystem connectivity -Evergreen Climate Innovations lays the groundwork for our portfolio companies to thrive. In turn, a thriving company may go on to exit, and then return capital back into our evergreen fund, which will then be reinvested into new ventures. With Bosch's acquisition of SPLT, this operating thesis has achieved a significant milestone, and we can't wait to see what the future holds.