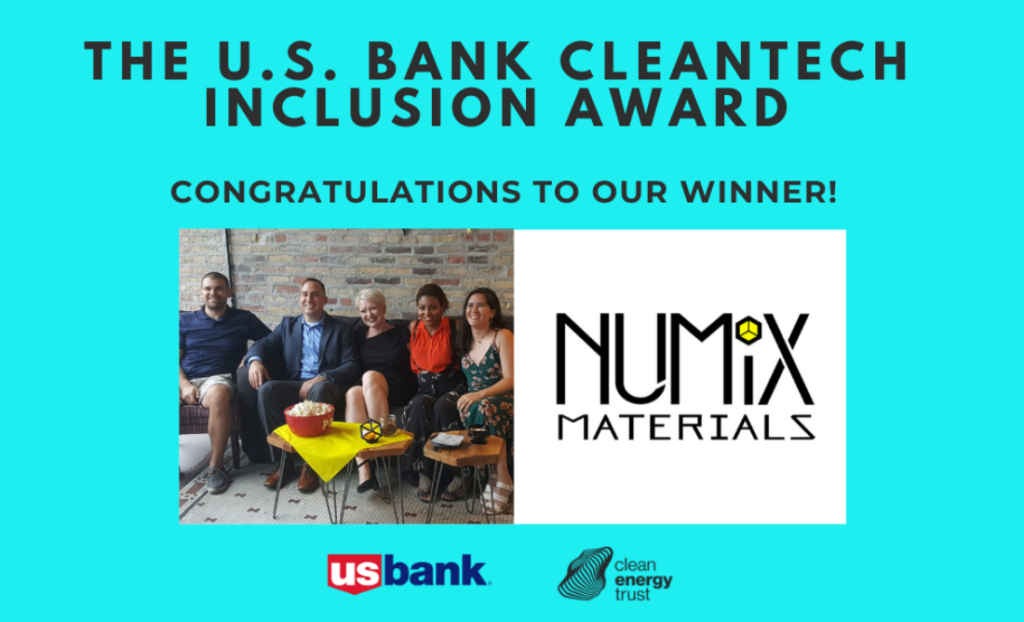 MINNEAPOLIS – June 30, 2020 – Evergreen Climate Innovations announced today NUMiX Materials as the inaugural recipient of the U.S. Bank Cleantech Inclusion Award. This new award program supports female and minority entrepreneurs who are building innovative companies that benefit the environment, create jobs, and drive economic development.
NUMiX Materials is a women-run cleantech startup that recovers metals from contaminated water for future reuse. By recovering metal from wastewater, NUMiX hopes to diversify supply chain issues with the critical metals needed for clean technologies while improving water quality. The startup was founded in 2018 at Northwestern University and is currently participating in Chain Reaction Innovations, Argonne National Laboratory's elite entrepreneurship program, which is a competitive, two-year program for innovators focused on energy and science technologies.
"Supporting female and minority business owners and environmental sustainability is at the heart of our commitment to being a socially responsible company," said Reba Dominski, Chief Social Responsibility Officer for U.S. Bank. "Through this award and our work with Evergreen Climate Innovations, we are able to help accelerate innovative technology and support a startup with a founding team that includes three dynamic female entrepreneurs."
"It was a pleasure to partner with U.S. Bank as this impactful award aligns perfectly with our mission to support early-stage startups working on solutions for clean energy, decarbonization, and environmental sustainability," said Erik Birkerts, Chief Executive Officer of Evergreen Climate Innovations. "We look forward to working with NUMiX Materials and supporting their vision of creating a circular economy for critical metal supplies while providing clean water for all."
As the award recipient, NUMiX Materials will receive a non-recourse grant of $25,000, 12-months of business mentorship and programming from U.S. Bank and Evergreen Climate Innovations, and heightened exposure to both investors and potential customers.
"We are honored to receive the first U.S. Bank Cleantech Inclusion Award," said NUMiX Materials Co-Founder and CEO Katie Kollhoff. "This award provides us with critical funding and business support we need to reach our next technological milestone."
Learn more about U.S. Bank's social responsibility work at usbank.com/community.
About U.S. Bank
U.S. Bancorp, with more than 70,000 employees and $543 billion in assets as of March 31, 2020, is the parent company of U.S. Bank National Association, the fifth-largest commercial bank in the United States. The Minneapolis-based bank blends its relationship teams, branches and ATM network with mobile and online tools that allow customers to bank how, when and where they prefer. U.S. Bank is committed to serving its millions of retail, business, wealth management, payment, commercial and corporate, and investment services customers across the country and around the world as a trusted financial partner, a commitment recognized by the Ethisphere Institute naming the bank one of the 2020 World's Most Ethical Companies. Visit U.S. Bank at www.usbank.com or follow on social media to stay up to date with company news.
About Evergreen Climate Innovations
Evergreen Climate Innovations provides catalytic capital and support to early-stage startups in the Mid-Continent region of the United States working on solutions for clean energy, decarbonization, and environmental sustainability. Based in Chicago, Evergreen Climate Innovations invests in and provides hands-on support to help such startups scale and succeed. To date, Evergreen Climate Innovations has helped its 33 portfolio companies raise $26 of additional investment for every $1 Evergreen Climate Innovations has invested. Evergreen Climate Innovations is proud that 58% of its portfolio companies have female or minority founders. Learn more at www.CleanEnergyTrust.org.  
Contact
Susan Beatty, U.S. Bank
612.303.9229, susan.beatty@usbank.com
Amy Yanow Fairbanks, Evergreen Climate Innovations