Magnets are the core of the electric power system — and have been since the very beginning. 
In 1820, Hans Christian Oersted accidentally discovered the connection between electricity and magnetism — a pivotal turning point that shaped the world's understanding of the concept and the science behind electromagnetism. In 1888, Nikola Tesla introduced the first induction motor, and in 1891, the first electric transformer — both of which relied on magnets as a key component to produce stronger electric currents, and specifically, alternating currents (AC).
From powering our electronic devices and kitchen appliances to electric vehicles and the grid, these pivotal technologies have fundamentally changed the way in which our world operates. Electrical and mechanical engineers, scientists, and researchers have been able to leverage magnets to drastically improve the way we transmit and convert electricity at scale.
Truth be told: Without the power of magnets, this progress would not have been possible.
Driving 'Magnetification' Forward
Decades of advancements in magnetic technologies have enabled lower cost and more reliable power and electric system infrastructure, like the ability to efficiently transmit electricity over long distances. It's also opened the door to clean technologies like solar power, electric vehicles (EVs), and the grid. And, eventually, it will enable them to make their way to the mass consumer market.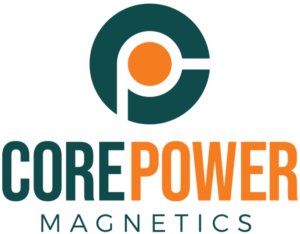 Yet, Evergreen's latest addition to the portfolio, CorePower Magnetics, argues we're only scratching the surface of magnetic technology's potential.
CorePower Magnetics is betting on an even brighter future for clean energy with its breakthrough magnetics technology. The Pittsburgh-based startup leverages proprietary magnetic technology to drastically improve the efficiency and power density of electric components.
The Problem: A Bottleneck to Clean Energy 
Despite the many advancements we've seen across the clean energy spectrum — from the introduction of wide-bandgap semiconductors and advanced batteries to EVs and renewables integration — the magnetics technology of today's electronic components have yet to see a comparable decrease in cost and capability.
"These modern-day technologies are utilizing what's essentially a century-old innovation at this point," says Dr. Sam Kernion, CEO of CorePower Magnetics. "Truthfully, we'd be wasting a lot of the advancements that have been made in battery technology and semiconductor technology if we continue relying on magnetics from the past."
CorePower Magnetics' argues that without leveraging next-generation magnetics technology to enable more powerful, more efficient, and much smaller electronic components, we'd not only stifle but limit the adoption of these pivotal sustainable energy innovations that we're betting on for a cleaner future. 
"If we fail to adopt advancements in magnetics technology, we risk putting a severe bottleneck on the adoption of clean energy solutions like solar, EVs, and EV charging stations," says Dr. Paul Ohodnicki, CTO of CorePower Magnetics. "Improved magnetic components have the potential to improve nearly every aspect of today's clean energy solutions — like longer-range EVs to faster EV charging stations."
CorePower Magnetics' patented magnetics technology represents the advancement we need to meet the demand for higher-performing and more dynamic electric power systems and components.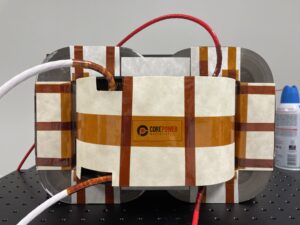 The Solution: A Step Change in Magnetics Innovation
Until now, magnetics have imposed a critical limitation on electrification and grid modernization. CorePower's new patented combination of advanced manufacturing processes and novel materials represents a long-awaited and significant advancement in efficiency and power density in power electronics — and eliminates or reduces the need for rare earth elements in electric motors.
CorePower Magnetics custom engineers the features of magnetic cores of the electric-powered components we use today, including inductors, motors, and transformers. The company's patented combination of advanced manufacturing processes and novel materials can result in up to 90% weight reduction, 80% volume reduction, and 50% improvement in efficiency.
Inductors, motors, and transformers built with CorePower's integrated magnetic technology operate with increased temperature stability, more efficient output, and come in smaller, lighter packages. CorePower's technology enables increased EV range, more powerful EV charging stations, and longer component lifetimes.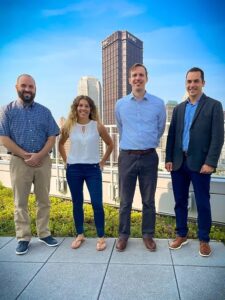 Meet the CorePower Magnetics Team
CorePower Magnetics' roots reach back over a decade. Dr. Sam Kernion, CEO, and Dr. Paul Ohodnicki, CTO, met during their graduate program research at Carnegie Mellon University. Paul continued the collaboration with Carnegie Mellon University while leading the development of the technology at the National Energy Technology Laboratory. After years of hard work and moving the needle in magnetics, their groundbreaking innovations eventually became the foundational patent for the company. The successful university and national lab partnership not only helped prove their technology was viable but that it was manufacturable and highly scalable. 
Today, the CorePower Magnetics team includes innovators with deep expertise across soft magnetics, manufacturing veterans, and experienced leaders with a proven track record of large-scale commercialization of energy technologies.
Dr. Kernion says the Pittsburgh-based startup builds upon the city's legacy as the birthplace of the U.S. electric power industry and prides itself on moving the "Steel City" forward in a more sustainable way. CorePower Magnetics also touts its ability to leverage Pittsburgh's world-renowned universities and research institutions, and tap into the region's vast technical workforce as an indicator of future growth and success. 
Why We Invested: The Promise of More Efficient Magnetics
Evergreen Climate Innovations firmly believes we must support the innovators and entrepreneurs building next-generation technologies to facilitate the clean energy transition to a decarbonized future.
CorePower Magentics' approach to enabling greater electric mobility and grid modernization puts them at the leading edge of new companies driving the electrification movement forward. And the company's track record of success and national recognition of its technology achievements has been clear to the Evergreen team since day one.
In November 2022, CorePower Magnetics received $5 million in funding from the U.S. Department of Energy's Advanced Research Projects Agency-Energy (ARPA-E). This funding, delivered through the Seeding Critical Advances for Leading Energy Technologies (SCALEUP) program, has enabled CorePower to commission a manufacturing line in the Pittsburgh region and scale production of its next-generation magnetic solutions for EVs, EV charging, and the grid.
CorePower was also a recent recipient of NASA's Hot Operating Temperature Technology (HOTTech) award and was one of five companies selected to participate in the 10th Cohort of the Wells Fargo Innovation Incubator (IN2) at the National Renewable Energy Laboratory (NREL).
The latest investment from Evergreen Climate Innovations, alongside other venture investors including Volta Energy Technologies, will help fund CorePower's new pilot manufacturing facility and critical new hires. The Evergreen team is very excited to support CorePower's growth and continued success, and is confident this company will make a big impact in reaching a clean, sustainable future.