Apply if you're an entrepreneur building an innovative company
We're on a mission with the U.S. Bank Foundation to support underserved and underrepresented cleantech entrepreneurs. 
The U.S. Bank Foundation Cleantech Inclusion Award is a grant awarded to entrepreneurs who are female and/or people of color and who are building innovative companies that benefit the environment, create jobs, and drive economic development. 
Recipients of the Cleantech Inclusion Award receive a non-recourse grant of $25,000, 12-months of business mentorship from U.S. Bank Foundation and Evergreen Climate Innovations, and heightened exposure to both investors and potential customers.
Applications for the 2023 award cycle are now closed. 
Award Application Criteria
Founder:
Company must have at least one company founder who identifies as female or a person of color
Eligible Geographies:
Companies headquartered in the following states are eligible:
Arizona, Arkansas, California, Colorado, Idaho, Illinois, Indiana, Iowa, Kansas, Kentucky, Minnesota, Missouri, Montana, North Carolina, North Dakota, Nebraska, Nevada, New Mexico, Ohio, Oregon, South Dakota, Tennessee, Utah, Washington, Wisconsin, Wyoming
Company Criteria:
Company must be legally incorporated

Company employment must be within the range of 2-12 full-time employees

Company must not have raised greater than $3 million from external investors

Company must own or have a valid license to relevant IP

Preferred: Companies with a market-ready product or service

Preferred: Service provides positive social impact and has the potential to benefit historically underserved communities
Sector:
Eligible founders must have a product or service that mitigates harmful emissions, reduces carbon, or otherwise positively impacts the environment. Eligible sectors include renewable energy, energy efficiency, smart buildings/cities, energy storage, mobility/advanced transportation, sustainable food & agriculture, resiliency services, carbon mitigation, and environmental product/ service innovation.
Additional Qualities:
While not explicitly required, other beneficial qualifications include:
Company is revenue-generating
If you have any questions, please email Senior Program Manager Dylan O'Reilly at dylan@evergreeninno.org.
Congratulations to our 2023 winner, Agriwater!
Our 2023 U.S. Bank Foundation Cleantech Inclusion Award winner was Agriwater. Agriwater is a Tennessee-based company focused on reducing the prevalence of hazardous wastewater lagoons and carbon emissions from agricultural wastewater with their proprietary water treatment system.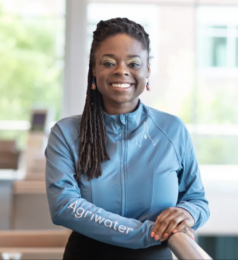 Ready for investment and support?
Your climate tech startup may be eligible.