Calico Sol is a North Carolina-based company focused on providing furniture as a service to help environmentally conscious businesses achieve LEED V4.1 certifications. Calico Sol is led by U.S. Army veteran
Douglas Williams
, a West Point graduate who is earning his MBA from Wharton.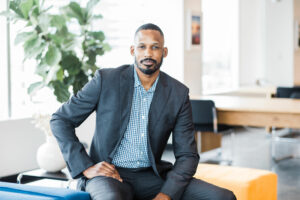 Image credit Amber Robinson
Now in its third year, this award supports minority and female entrepreneurs who are building innovative companies that benefit the environment, create jobs, and drive economic development.
The Evergreen team is excited about Douglas' commitment to tackling the furniture industry's long-overlooked waste problem. Calico Sol's furniture-as-a-service model enables a closed-loop system, where individuals can return their used Calico Sol furniture once it is no longer needed.