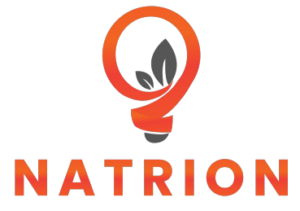 Evergreen Climate Innovations and the U.S. Department of Energy's (DOE's) Office of Technology Transitions announced team Natrion as the winner of the EnergyTech University Prize (EnergyTech UP) Explore Event: Great Lakes.
Students from the University of Illinois Urbana-Champaign, Boston College, and Indiana University Bloomington competed as team Natrion to win $2,500 for its Lithium Solid Ionic Composite (LISIC), a platform technology that can be rapidly deployed by lithium-ion battery manufacturers on their existing production lines to produce solid-state batteries with faster charging and more energy. 
Representing the Great Lakes region, team Natrion will move on to the national competition in March where they will compete for part of more than $250,000 in cash prizes. Natrion will work to refine its market analysis and business opportunity ahead of next month's event.
In addition to Natrion, the following four teams have been selected as Technology Bonus Prize Semifinalists: 
After the conclusion of all of the regional Explore Events, up to six Technology Bonus Prize Finalist teams per technology category will be awarded $2,000 and invited to compete in the Refine and Pitch Phases alongside the Regional Winners. Learn more here.
Join the Wilton E. Scott Institute for Energy Innovation on Thursday, March 24th to watch the final 17 EnergyTech UP student teams pitch their complete business plans at Carnegie Mellon's Energy Week.
The finalists will compete for a total of $250,000 in cash prizes as they explore business opportunities for lab-developed or other high-potential energy technologies, assess commercialization opportunities through market analysis, and present a viable business plan to industry judges. Register to attend here.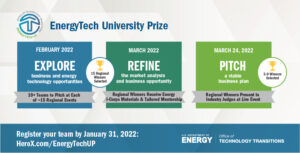 About the EnergyTech University Prize
Sponsored by the Office of Technology Transitions (OTT) at the U.S. Department of Energy (DOE), the EnergyTech University Prize (EnergyTech UP) is a collegiate competition challenging multidisciplinary student teams to develop and present a business plan that leverages DOE national laboratory-developed and other high-potential energy technologies. EnergyTech UP awards cash prizes to teams that successfully identify an energy technology, assess its market potential, and propose a strategy for commercialization. Learn more.