With each day and every new climate report that comes out, the data is resounding:
the impacts of climate change are nearing an irreversible place and there is an urgent need for us to act now. 
Companies and governments at the local, state, and federal levels are making big and bold commitments to do their part to combat the global climate crisis. From Biden's aggressive climate agenda to local governments like the City of Boston adopting green new deals of their own, the number of climate commitments has grown astronomically over the past few years. Alphabet, the parent company of Google, is planning to become the first major company to operate full-time on carbon-free energy after reaching carbon neutrality in 2007. The list of climate commitments just keeps growing; however, it remains to be seen if they will ever come to fruition.
Venture capitalists are going all-in as well. Recently there has been a flood of VC money invested in the climate tech space. In 2021, climate tech startups raised ~$40b across 600+ venture deals and 64 new climate funds launched! 
Climate change is undeniably "hot" right now, but what does this mean for the climate workforce? 
Source: Climate Tech VC
A rise in demand for climate employees
As climate tech companies receive significant investments and non-climate-focused companies prepare to fulfill their climate commitments, there is a rapidly increasing demand for workers to fill new positions.
According to LinkedIn, green jobs (roles that use skills that enable the environmental sustainability of economic activities) in the U.S. have increased by 8% annually over the past five years and the demand for green talent will soon outpace the supply. 
This rapid emergence of new green jobs is coupled with a seismic shift in the way people think about work. Time away from the office has made employees reconsider their priorities for where they work, why they work, and what they work on. Even during the pandemic, green workers have been hired at a higher rate than non-green workers, which suggests that the climate sector has been more resilient to the economic downturn than others.
From the 2022 Global Green Skills Report, the top three fastest-growing green jobs between 2016 and 2021 in terms of annual growth were:
Sustainability Manager (30%)

Wind Turbine Technician (24%)

Solar Consultant (23%)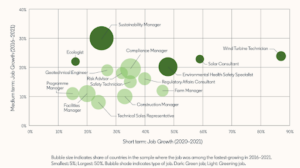 Source: LinkedIn's Global Green Skills Report 2022
The growth doesn't stop in the short term – while solar consultants and wind power technician roles were the two fastest-growing jobs between 2020-2021, the Bureau of Labor Statistics estimates that wind technicians are on track to be the second fastest-growing job in the country between now and 2030, with projections estimating 68% growth. Solar panel installers are also in the top 5 most rapidly growing jobs, with the national workforce expected to grow 52% over the next decade. 
Cultivating renewable energy
These projections are excellent news for the Midwest, as states like Kansas, Indiana, and Iowa have flat, rural fields that are perfect for solar and wind farms. According to Invenergy, the Midwest (on average) receives more sunlight than Germany, a country that boasts the third-highest rate of solar power production in the world (behind only China and the U.S., respectively)! While the Midwest is known for its freezing winters, sunny winter days can be ideal for solar farming as many newer solar arrays use two-sided panels (called bifacial panels) that can harness both direct sunlight as well as light reflecting off the snow.  
Also, the Midwest has strong wind resources, which has led to a deluge of wind turbine project development with Iowa second only to Texas in the percentage of state energy derived from wind power. Six of the top ten wind-producing states are from the Midwest region – no wonder Chicago is called the "Windy City." 
If you're interested in learning more about the Midwest's clean energy jobs, Evergreen Climate Innovations releases an annual report, Clean Jobs Midwest, based on survey data on clean energy employment. You can check out the data for individual states and even counties in the region, as well as see worker profiles from some of the individuals working in the industry.
SEC proposed changes and the rise in ESG
Another important variable to consider is the proposed rule by the Securities and Exchange Commission (SEC) that aims to standardize climate-related disclosures and would cause a shockwave of new jobs in the environmental, social, and governance (ESG) sector. Check out this blog post by Evergreen's Managing Director, Ian Adams, that breaks down what this proposal may mean for climate tech startups. 
It's clear that the increased demand for workers in the ESG market will require a hiring boom to meet the requirements of the proposed rule – including roles in ESG and sustainability consulting, ESG investment, and climate risk data management. These risk analysts will help providers integrate climate-related physical risk data into their business strategy to meet regulatory disclosures and will be in very high demand – according to GreenBiz. 
Even before the proposed rule became public knowledge, ESG has been a trendy topic.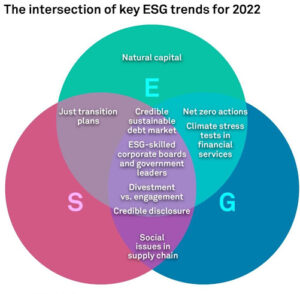 Source: S&P Global
Last summer, the accounting firm PwC stated its plans to invest $12 billion over the next five years in a major ESG push. From mass hiring to educating all partners and staff through an "ESG academy," PwC has been ramping up to help more clients work through climate reporting and disclosures as regulatory oversight increases.
Interest from investors has also fueled a huge acceleration of investment vehicles with ESG ambitions; the number of ESG funds has grown exponentially over the past 10 years. Global assets under management in ESG funds are nearly $2 trillion, according to a report from Morningstar released last year. That said, the current ESG system has been criticized for lacking transparency – ratings are self-regulated, the company's methodologies are not always made public, and there can be a disconnect between the ESG ratings that a company may give itself and what that means in terms of its positive (and negative) impact on the world.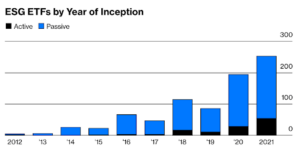 Source: Bloomberg
Despite this, there is a broad consensus on the need to address climate risk in investment portfolios, and there continues to be an enormous demand for investors and companies to become adequately equipped to understand ESG.
Where is (in demand) talent coming from and going to?
Young people under the age of 25, also known as Gen Z'ers, are committing to careers in climate to do their small part to change the direction our planet is headed in. I personally identify with this mindset as a member of Gen Z – there is no shortage of climate-related jobs available, and it feels good to be a part of the solution!
At the time of writing this, Evergreen Climate Innovations was hiring for several new roles and I was curious about the typical background of our applicants for those positions – did most of our applicants have previous climate work experience or environmental degrees? Or were our applicants exemplary of the pivot to climate jobs from other fields?
Roughly half (45%) of the applicants for the Strategic Partnerships role had previous experience in environmental adjacent work and a little over a third (36%) held environmental-related degrees. The applicants for the recently closed Investment Analyst role typically came from a more traditional background with 34% having previous environmental work experience and 22% holding environmental-related degrees. It's unsurprising that the investment role attracted candidates with less environmental experience since it's more of a finance-focused position, but a common refrain in many of the cover letters was that they were on the hunt for a climate-focused career and wanted to make a positive difference.
The hiring landscape is changing almost as fast as the climate itself, with more money flooding into the space than ever before, commitments from governments and businesses, and new SEC regulations on the horizon. Two things are for certain: the Midwest will continue to be a leading clean energy hub and the demand for climate-related jobs will continue to grow. With that in mind, if you're interested in contributing to the growth of climate employment, check out all our portfolio companies that are hiring and other clean energy focused job boards here!